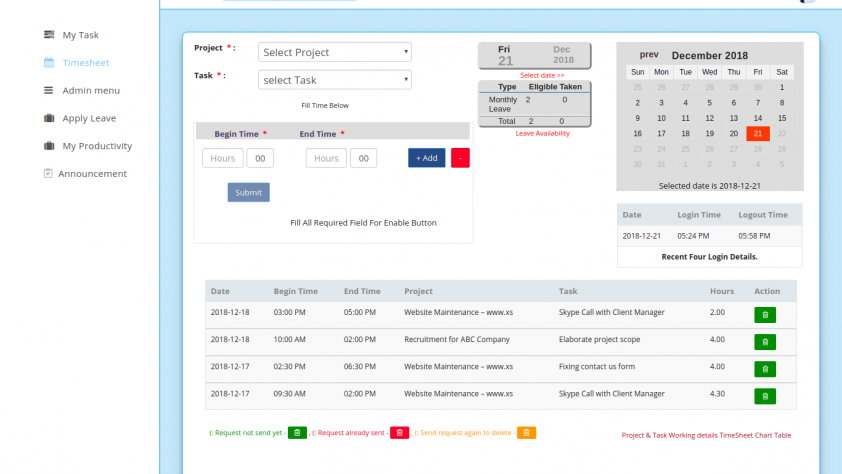 Importance of Timesheet – Software Tool for Capturing Hours and Invoicing
Timesheet in an organization has multiple use and benefits.  Timesheet is used by employers to calculate the payrolls of employees.  A well designed timesheet tracks the start and end time of a task with the detailed breakdown of everyday activities that was carried out during the course of employment.  Timesheet in the digitized environment has multiple features and it can capture numerous data points associated with a job/activity.
Time sheet helps in comparing planned costs versus actual costs.  This will give clear indication about the mode of spending hours and who worked and who did not work in the entire job/project.  This information as accumulated in a time sheet can drive Human Resource managers to assess performance and reassign unprofitable work.
There are companies provide web based service for timesheet which helps in tracking the time for payroll, billing and project management.  The time sheet developed by Smart Admin is one among the well-structured tool in this industry.  It has the capability to capture up to 30 data points connected with a job at a given point of time.
The advantage of using time sheet is summarized as below;
Time sheet helps in making payroll processing more efficient, and it brings more visibility to costs. This helps to estimate project, assign team members and further can be used for billing and invoicing.
Time tracking result in accurate invoicing for all hours worked by staff members.
It helps to improve bottom line by adopting accurate billing and in general make it simpler for an organization timesheet management technologies that are web-based can improve the health of companies.
SMART ADMIN is a cloud-based software for generating GST Compliant Invoice, Payroll management, Timesheet and Project Tracking – visit SMART ADMIN for FREE Trial and Registration.
Related Post
DIGITIZATION has become a required rather than the desired component in the industry of late.  The term has become a major buzzword in rece...
Software as a service (SaaS) has been growing exponentially.  According to market data, 73% of top organizations run around 80% of their ap...
The spread of COVID-19 has plunged work and life into terribly uncertain waters, and the country has recently gone into lockdown in an effor...