How do We Improve New Hire Engagement and Retention
The word Employee Engagement is related to the various levels of an employee's work commitment and perspective towards the organization. An employee engagement has to be considered as one of the pillars of the business success of any organization in today's competitive market. High level of engagement will boost retention of talent, encourage customer loyalty and which results in improve in organization performance and stake holders value.
But here Analytics will help various organizations to predict employee's performance based on past and current time data. It provides backward-looking as well as future analysis on the available data. So here we can apply predictive analytics to workforce to improve on employee engagement and retention through some the ways mentioned below:-
         Predicting the future performance of employees
Two ways to analyze the future performance of the employees:
Firstly, here you need to pick the employee with top performance. Most of the firms would use "references" and "experiences" as a way to predict whether a candidate will be good fit for the organization and to some parameter it may work well. As per one of the research , references only determines 7% of an employee's performance and experience counts event less at 3%.
Second way is, you can hire on the basis of cultural attributes. Most of the companies are focused on hiring the "Cultural fit" candidates.
Developing Line Manager's effectiveness
An effective manager will support and guide to their team, active in collaborative relationships, and one who communicates to his team will be able to build a strong and highly efficient team skill. One can understand the attributes of line manager with the help of predictive analytics which results in employee leaving. Collecting data of past employees, their habits, performance rating, payroll, tenure and leave management against their team leader's profile.
Predicting Learning and Development Needs
The predictive Analytics technique looks at workforce efficiencies with the employees skill set gaps to be worked on. This technique will ensure the skill gap of the employee and analyze the future recommendations.
One of the recent survey describes the financial cost associated with attrition will range 13% to 23% of annual compensation depending on the level/function of an employees. Employee attrition is the reduction of staff by voluntary or involuntary reasons. They can through natural means like retirement, or it may be through termination of contract, resignation or when the company decides to make a position redundant.
A focused attrition analytics predictive model can help to lower the risk by 5% to 8% annually.
The predictive analytics helps to identify the key components payroll, promotion, performance reviews, time spent on work, commute relationship with manager to predict the turn-over of the employee.
Below  is the employee retention strategy and steps involved: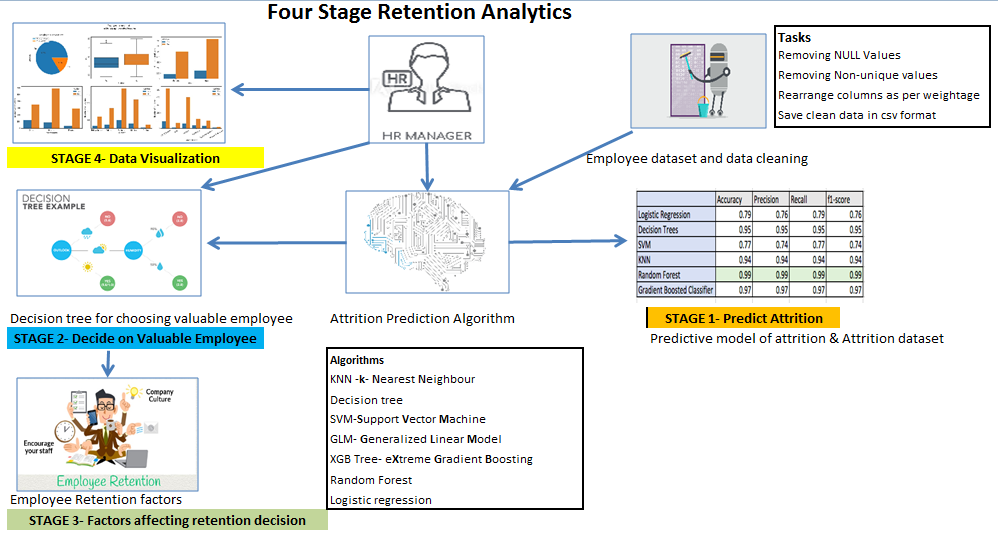 Conclusion:
So here you will be able to plot the key factors which are affecting the new hire engagement and retention of the employee. In which Predictive analytics predicts the employee attrition and Prescriptive analytics helps to decide on valuable employees and to concentrate on the factors effective in retaining the employee.
SMART ADMIN is a cloud-based software for generating GST Compliant Invoice, Payroll management, Timesheet and Project Tracking – visit SMART ADMIN for FREE Trial and Registration.
Related Post
Covid – 19 has brought multiple changes in society and its behavior, and a few of such changes are directly visible.  The hybrid work mod...
An invoice or bill indicates the sale or supply of products or services by one business to another or consumer.  Ideally, the invoice shall...
Three basic ingredients which drive economic growth are productivity, capital, and labor.  All three are facing new challenges in the curre...