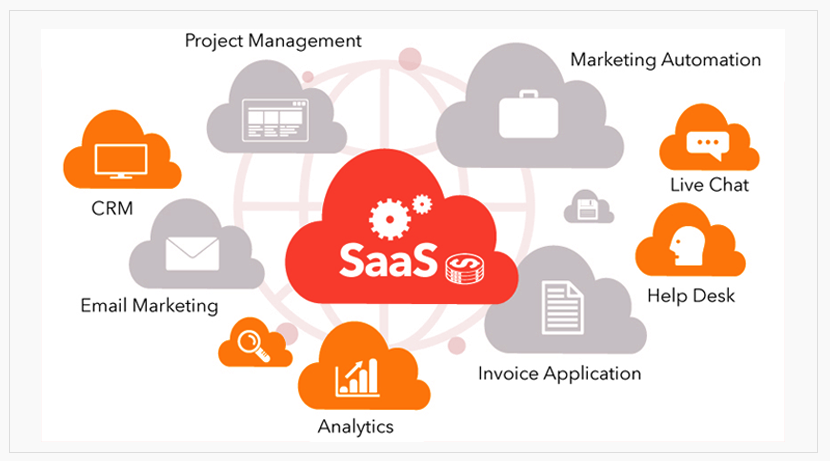 Benefits of Subscribing SaaS Products to Lower Cost of Ownership- Digitize Office with Least Investment
Software as a service (SaaS) has been growing exponentially.  According to market data, 73% of top organizations run around 80% of their applications in the SaaS-based platform by 2020.  This is projected to rise in the past 2020 timeframe, too. Now, it is an opportunity for small and medium organizations to explore this option and climb the ladder.   There used to be many questions around SaaS and its data security.  If we closely look into Saas based products, it is much safer to store data in the SaaS-based system than keeping data in your own network with a comparatively lesser security environment around it.  There are multiple vulnerabilities in keeping the data in the same office location which will end up in others accessing data under one or other flimsy ground.
SaaS is a software distribution platform in which programs are managed by third-party and made accessible to users over the internet.  It is one of the three primary types of cloud computing, including infrastructure as a service and application as a service (IaaS, PaaS).  SaaS is transforming the way organizations operate.  Organizations will then afford to run the program and have ongoing IT service.  This allows for better network security, improved collaboration, additional functionalities, and straight-forward, transparent pricing.  You don't need to install anything on your device to utilize SaaS platforms.  The application will be managed by the cloud service provider.  Maintenance and updates are done on the server-side and are invisible to the customer.
There are SaaS applications for key business technologies such as e-mail, sales management, customer relationship management (CRM), financial management, human resource management (HRM), billing, and collaboration.  The great thing about SaaS applications is that you don't require any expensive equipment or professionals to utilize it.  The demand for SaaS product market has tremendous promise.
Advantages of SaaS
Accessibility – this is a client-centered framework that describes a cloud-based computing platform. The availability of service is only restricted to an internet connection.
Endless integrations – the number of cloud applications used is increasing all the time. As a consequence, software integrations have become a must-have prerequisite in 2020.  It is an advantage of SaaS
Easy scaling – a bunch of metrics and complex calculations are at the heart of every development. Nevertheless, in a technological sense, only cloud-based computing allows the number of apps to expand smoothly
Data Safety – the cloud data security requirements are strongly combined with its responsibility to keep customer expectations associated with huge investments.
There are many office utilities and applications derived out of SaaS infrastructure.  The tools as offered in Smart Admin help organizations manage their workforce, track projects, and billing.  The additional feature of Smart Admin like Payroll and Timesheet really come handy for Small and Medium organization while exploring for digitization.  The recent change in organizational dynamics and work culture due to COVID pandemic challenges many organizations to review their work model and exploring options for digitization.  One can subscribe to any or all features of Smart Admin.  Being a cloud-based application it is priced at lower at the other end of the spectrum and it is really exciting for end-users.
SMART ADMIN is a cloud-based software for generating GST Compliant Invoice, Payroll management, Timesheet, and Project Tracking – visit SMART ADMIN for FREE Trial and Registration.
Related Post
Covid – 19 has brought multiple changes in society and its behavior, and a few of such changes are directly visible.  The hybrid work mod...
An invoice or bill indicates the sale or supply of products or services by one business to another or consumer.  Ideally, the invoice shall...
Three basic ingredients which drive economic growth are productivity, capital, and labor.  All three are facing new challenges in the curre...